B. Kirk Whitehouse, Stringed Instrument Repair
Who/What?
Welcome to the B. Kirk Whitehouse, Stringed Instrument Repair website. My name is Kirk Whitehouse. I own and operate this business out of my home in Punxsutawney, PA. Currently I offer custom necks and bridges and repair for all fretted instruments.
By Appointment Only!
Repair services include :
Set up
Fret level and recrown
Custom nuts and saddles
Neck reset
Structural repair
and many more

30 day guarantee on most repairs. Free estimates.
I specialize in neck and frets of fretted musical instruments.
After attending the Atlanta Institute of Music, I spent two summers learning repair from Flip Scipio. Then I went to Roberto-Venn School of Luthiery. I spent some time working for Ovation. I am certified in guitar repair and construction. I feel that my experience and schooling make me qualified to handle most any repair situation.
I was inspired to start learning repair back in the mid eighties. I could never find any body that could repair my guitars to my satisfaction. And when I would complain or comment on these repairs, I felt that I was not taken seriously. This is a big problem around here. I am out to stop this. So, my approach is to take everybody's problem seriously, whether or not you can even play the instrument.
Mission Statement
Exceeding in quality service for the greatest customer satisfaction.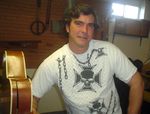 Additional Contact Info
E-mail